Product
Contact Us
| | |
| --- | --- |
| | 0086-21-68068409 |
| | 0086-21-68068406, ext 802 |
| | tonya@cnmetaldetector.com |
| | No.2298,Hanghe Road, Pudong District, Shanghai 201318,China |
sales network
Handheld Metal Detectors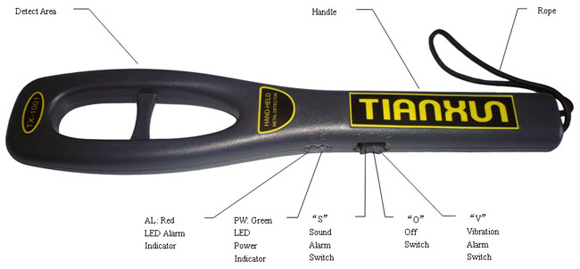 TX-1001 RECHARGEABLE SUPER SCANNER 


Introduction:
The TX-1001 is a high performance Hand Held Metal Detector designed to meet the exact requirements of the security industry. The special design of it's detecting area makes this model has very high sensitivity. It is adopted PC+ABS for mould material, and has functions of durable material, fine workmanship, and easy carry. The distinguishing feature is the streamlined design. Typical uses will include body search for offensive weapons in crowd control, airport and border security, checking parcels and letters for metal objects and anywhere that hidden metal needs to be detected. It can be charged and has powerful functions, low battery indicator, LED with buzzer or viberation alarm. It is a good helper of security detecting
Function:
(1) Streamlined, elegant appearance, super sensitivity.
(2) Detect ferrous and non-ferrous metal.
(3) 2 kinds of alarm method: buzzer & LED alarm; viberation & LED alarm.
(4) Adjustable sensitivity, easy use
(5) Low battery indicator/ Charge Lamp gives a timely alert
(6) After installing chargeable battery (*Optional) in the battery compartment, you can charge the device directly.
 
Detection distance:
The sensitivity of the detector is determined primarily by the size, shape and composition of the object to be detected. Typical performance figures are given below:

Pin: 30-60mm
One coin: 75-100mm
6 inches knife: 160-180mm
64model hand gun: 180-195mm

 
Accessory: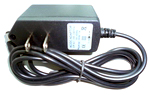 Charger (Optional)
Specification:
(1) Power: 9V (6F22) standard or rechargeable battery (*Optional)
(2) Frequency: 25KHz
(3) Voltage: 9V (6F22)
(4) Weight: 225G (without battery)
(5) Size: 37.5(L) ×7.5(W) × 3.5(H)cm
(6) Operating Temperature: -15℃ to +55℃

Made in China
Designed and manufactured by Tianxun Electronic Equipment Co. Ltd.
All information subject to real equipment