Product
Contact Us
| | |
| --- | --- |
| | 0086-21-68068409 |
| | 0086-21-68068406, ext 802 |
| | tonya@cnmetaldetector.com |
| | No.2298,Hanghe Road, Pudong District, Shanghai 201318,China |
sales network
Ground Metal Detectors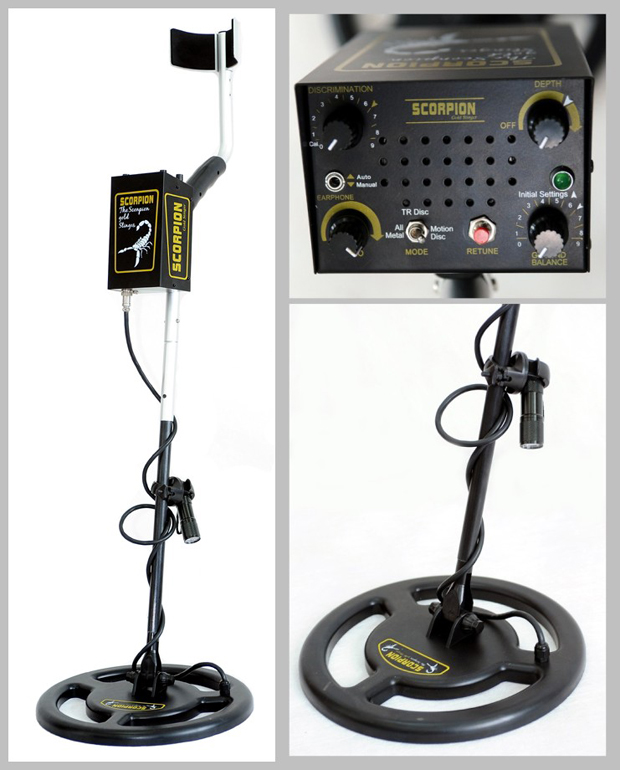 Scorpion
Key Features
1. Circuit type: 15 kHz Groundhog circuitry, ideal for detecting small nuggets
2. Audio Threshold, Adjustable: adjust to users preference with 10-turn control
3. User-adjustable Discrimination: for use with either Motion Discriminate or TR Discriminate modes to reject unwanted items.
Search Modes:
1. Non-Motion All Metal—Hover over targets in deepseeking, Non-Motion 
All Metal mode. Balance out ground minerals precisely with the 10-turn 
Ground Balance control.
2. Calibrated TR Discrimination—Sample ore or check "hot rocks" in this 
Non-Motion mode.
3. Motion Discrimination—Eliminate iron, foil and trash items with user-
adjustable discrimination. Automatic ground balance feature makes this mode ideal for coin hunting.
4. Belt Mount Configuration: Control box is detachable for alternate belt mount use (belt not included).
5. Retune Button: Press to reset the audio threshold as desired.
Specifications
Discrimination: user-adjustable single control,cumulative discrimination
Audio Threshold: User-adjustable,10-turn control
Ground Balance: USer-adjustable,10-turn control
Detection Frequency: 15kHz
Search Modes: 3
Sensitivity/Depth Adjustments: Yes,via user-adjustable control
Electronic Pinpointing: No
Standard Search coil: 5" x 10" Crossfire DD
Length(Adjustable): 42" to 51" (1.06m - 1.29m)
Total Weight: 3.3 lbs. (1.5 kgs.)
Audio: Speaker,headphone jack
Batteries: Three 9v(included)
Warranty: 2 year,Limited Parts/Labor